Hand Made in Italy
We believe only in the very highest quality, authenticity, passion and craftsmanship. All our sunglasses are 100% Hand-made in Northern Italy by the finest artisan families in the industry with many years of experience. Their craftsmanship has been handed down from one generation to the next. Each pair has been finished and inspected by the skilled hands of an experienced specialist before it leaves the factory.
Lenses
Our high quality lenses ensure that you have 100% UV protection and help to improve distortions. Low quality sunglasses have lenses made of ordinary plastic that can cause more harm to your eyes than good as they let damaging rays into your eyes. Long-term exposure to UV rays can damage the eye's surface as well as its internal structures, sometimes contributing to cataracts (clouding of the lens) and macular degeneration (breakdown of the macula). Moreover, as the lenses are not optically correct they can eventually lead to nausea and headaches.
At Sienna Alexander we use Italian certified 100% UV protection CR39 (Columbia Resin batch 39 made of hard cast resin) lenses which weight much less than glass lenses, are covered anti-scratch coatings and are much more shutter-resistant. We offer a selection of standard, mirror and gradient lenses in many colours. Mirror lenses have been applied with thin layers of various metallic coatings that can reduce the amount of light entering the eye and can even provide added protection to the skin surrounding the eye area. Gradient lenses are permanently shaded from top to bottom (dark on top and lighter on the bottom) can cut glare from the sky but allow you to see clearly below and are comfortable for driving among other things.
Acetate
We use the best quality Italian Hand-made layered Mazzucchelli acetate. It is a type of cellulose acetate that allows for a multitude of rich hues and colours as well as visual textures. Every piece of acetate after it is cut and hand polished is unique, which means that no other pair which is produced is exactly the same. Cellulose acetate has a flexible molecule structure that unlike other plastic materials lasts longer, is more flexible and keeps its form better. Even after many years, sunglasses made by Mazzucchelliacetate can be polished and look like brand new. Moreover, cellulose acetate is hypoallergenic and bacteria resistant and is less likely to irritate your skin.
Metal
Our Metal frames are built with high quality Italian stainless steel, finished and polished by hand. They are specifically designed to allow the bold styling of sculptural designs in a durable and lightweight frame that is comfortable, flexible, stronger and will last longer.
Spring Hinges
We use Italian spring hinges on our frames that prevent the frame from becoming too wide over time and improve the way a pair of sunglasses fits on your face and the tension it places on the temples. This type of hinge incorporates a spring that allows the temples to press more or less firmly on the face for a customised fit.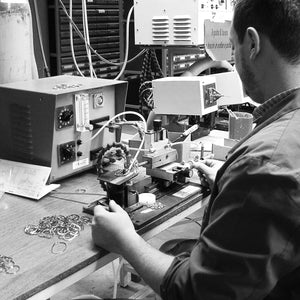 Size Guide
The best way to figure out if a pair of sunglasses will fit you, is to measure a pair of sunglasses that you already have and you like, and compare the below dimensions.
Nose Bridge Width is measured in mm and is the distance between the lenses
Frame Height is measured in mm and is the height of the frame
Lens width is measured in mm and is the horizontal distance between the bridge and the temple