French style guide by Lou Sotto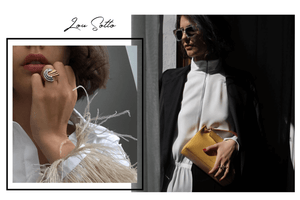 Fashion PR & Creative consultant

Lou Sotto

on her journey in the fashion industry, French style tips and life lessons
Where were you born and raised and how do you think your home country shaped your personality? I was born in south of France, but I moved to Paris straight after high school. It helped me to find inspiration and creativity. I have always felt more Parisian. 
Do you prefer London or Paris? I could not say!
What difference do you see between London and Paris fashion style? I would say London style is more creative and extravagant, people are not afraid to mix and match colors and prints. Parisian style is more effortless and minimal.
Your favorite places in London and Paris? I love the Ivy Chelsea Garden and the Ham Yard in London. Loulou, The Hoxton and Costes are my favorite Parisian spots for a brunch.
If you could move anywhere in the world, where would that be? New York
We are here to learn. What is the most important lesson you got about life? You'll always face bullying and mocking, it's part of life. Just rise above it. What doesn't kill you makes you stronger.
How did you get your start in fashion industry and why did you choose fashion? I've always been passionate by art, fashion and culture since I was a kid. At school I never dressed up like the others. Fashion has been naturally something I wanted to get involved in. I studied art and styling and I've been very fortunate to meet the right people who helped me to grow.
First fashion memory? My very first internship in a fashion magazine. I was really excited!
What do you like the most about your job and what is the hardest part to deal with? I love working and meeting people from all over the world. It's very inspiring and you learn a lot but the fashion industry can be very demanding and tough sometimes!
You wear a lot of sunglasses. What is your favourite sunglasses style and colour? I love tortoise cat eye or square shape sunglasses.
Lou is wearing Sienna Alexander oversized square sunglasses - Kensington Transparent Brown  
SHOP NOW
You have a strong sense of style. Could you share your styling tricks? Buy less, buy better! To me it's really important to invest in a beautiful piece I could wear again and again and never get bored. I always go for timeless pieces with noble materials that I pair with fun accessories.
What would you never wear? Crocs
How do you like to use colour in the outfits? By small touches, usually in accessories.
One must have piece for spring to update your look. A beautiful lightweight parka.
What advice would you give to the 18-year-old yourself? Keep reaching for your dreams and you can make them reality!
Leave a comment
Comments will be approved before showing up.
Size Guide
The best way to figure out if a pair of sunglasses will fit you, is to measure a pair of sunglasses that you already have and you like, and compare the below dimensions.
Nose Bridge Width is measured in mm and is the distance between the lenses
Frame Height is measured in mm and is the height of the frame
Lens width is measured in mm and is the horizontal distance between the bridge and the temple